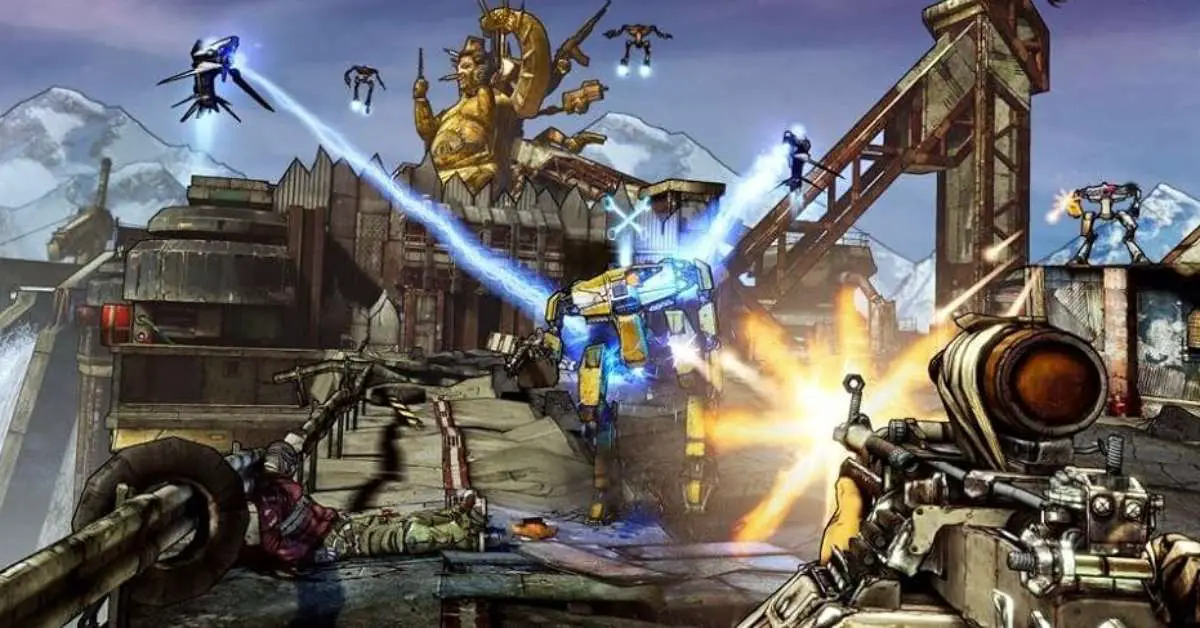 by in
Are you scavenging through the perilous terrains of Pandora in search of some high-quality loot? Look no further. This guide is your ultimate resource for Borderlands 2 SHiFT Codes that'll grant you Golden Keys, and by extension, access to exclusive in-game items.
SHiFT Codes in Borderlands 2 aren't just random strings of characters; they're your ticket to some of the game's most powerful and rarest gear. And let's face it, who doesn't want to beef up their arsenal? By redeeming these codes, you can unlock Golden Keys that grant you entry to a special chest in Sanctuary, loaded with premium loot. These codes are released by Gearbox Software as a loyalty reward, making your time in the Borderlands universe even more thrilling.
New Borderlands 2 SHiFT Codes for Golden Keys: Fresh Loot Awaits!
Ready for some freshly baked SHiFT Codes? This section is where the action's at! These are the latest SHiFT Codes for Borderlands 2, and they'll provide you with Golden Keys when you redeem them. The best part? These are universal codes, meaning they're good to go whether you're playing on PC, Xbox, PlayStation, or even the Nintendo Switch. Let's get to the loot!
| Reward | Expiration Date | SHiFT Code |
| --- | --- | --- |
| 3 Golden Keys | Expires: Oct 31 | RR6TT-SBJ3T-BBJJJ-TBJ33-FTBFX |
| 3 Golden Keys | Expires: Sept 28 | 3BXTB-Z5CSB-F5355-3BJ3J-C69TK |
| 11 Golden Keys | Expires: Oct 31 | CTWTB-X9ZHB-XBXT9-B3JTJ-3JKW6 |
| 3 Golden Keys | Expires: Sept 19 | B3F3T-FCK93-6K3KK-JJ3T3-SXTR6 |
| Volcano | Expires: Oct 31 | CTKJB-KHZS3-FJXJS-3TB3J-3ZCKF |
A Few Quick Tips:
Universal Codes: These codes are platform-agnostic, so redeem away!
Expiration: Keep an eye on those expiration dates. Some of this loot won't wait forever!
Bookmark Us: We update this list regularly, so bookmark this page for the freshest codes.
Remember, to redeem these, you'll need to either go in-game or use the official SHiFT website. Not sure how? Don't sweat it; we'll cover that later in this guide.
Legacy Codes That Work in 2023: Oldies but Goodies
Who says old can't be gold? If you've missed out on some of the SHiFT Codes released in the past, we've got you covered. These are the legacy codes that still work like a charm, even in 2023. I've verified these to be working as of March 24, 2023. So, if you haven't used these before, they're up for grabs!
| Reward | SHiFT Code |
| --- | --- |
| 5 Golden Keys | WBKBJ-HFK5Z-BJ639-BTTJT-W33JH |
| 5 Golden Keys | W3KBT-XFKWH-JBRJH-JJBTB-T99HC |
| 5 Golden Keys | KJ53B-CXW5Z-TT63S-BJT3J-TB99R |
| 5 Golden Keys | K3KTJ-3XCKH-3TFBZ-3JTJ3-RXR3B |
Points to Remember:
All Platforms: These codes work across all platforms. Yep, no favoritism here!
No Expiry: Since these are legacy codes, they don't have an expiration date.
First Time: If you've used these before, they won't work again. They're a one-time deal.
If you haven't redeemed these in the past, then consider this your lucky day. But wait, there's more! We've also got platform-specific legacy codes coming up for PC, Xbox, and PlayStation enthusiasts.
PC Codes With No Expiration Date: For the Keyboard Warriors
PC gamers, this one's especially for you! Before Gearbox made the switch to universal codes, they released some that were strictly for PC. And guess what? These SHiFT codes still work in 2023, and they don't have an expiration date. Time to load up your digital backpack with some exclusive loot!
| Reward | SHiFT Code |
| --- | --- |
| 25 Golden Keys | WBK3T-BKW6T-TXTRK-JTTBT-C6BS5 |
| 25 Golden Keys | W3KJB-H9CBW-XRBRW-JTBTJ-9JRXK |
| 20 Golden Keys | 5BW3B-F96CT-KXJFK-TB3B3-39BWZ |
Loot Notes:
PC-Only: These codes are PC-exclusive, so they won't work on other platforms.
No Expiration: These are legacy codes, so they don't expire. Use them anytime!
Historical Context: These are from the days when Gearbox issued platform-specific codes. Nostalgic, right?
Whether you're a long-time PC gamer or just recently joined the ranks, these codes offer a great way to level up your gameplay.
Xbox Codes With No Expiration Date: For the Console Commanders
Xbox players, your time to shine has come! We're dropping some SHiFT Codes that are just for you. These are Xbox-exclusive and still work in 2023. Gearbox initially had a thing for platform-specific rewards, and these codes are a testament to that era. Let's dive right in!
| Reward | SHiFT Code |
| --- | --- |
| 25 Golden Keys | CJC33-KHBCW-FHF6Z-C6JTB-F9395 |
| 25 Golden Keys | C35J3-5XSSK-SH6RH-K63TB-39S53 |
| 20 Golden Keys | 5TKTB-W3J9R-TK5CX-5XT33-ZBBWW |
Gaming Highlights:
Xbox-Only: These codes are designed specifically for Xbox players.
Everlasting Loot: Yep, these codes don't expire. Use them at your leisure.
Legacy Love: Like the PC codes, these are from a time when Gearbox focused on platform-specific rewards.
PlayStation Codes With No Expiration Date: For the DualShock Diehards
Hey PlayStation fans, it's your turn to join the loot fest! We've got some SHiFT Codes that are PlayStation-specific and—guess what—they still work in 2023. Before Gearbox switched to universal codes, they were dishing out platform-exclusive goodies. And these codes are your slice of that pie. Let's unlock some loot!
| Reward | SHiFT Code |
| --- | --- |
| 25 Golden Keys | KTKTT-ZSFWS-R3CHC-9BW33-3JW3H |
| 25 Golden Keys | KBW3J-ZF5JT-JC59K-93KJT-3ZTKF |
| 20 Golden Keys | W353B-J3BK9-69X5B-ZBKJJ-55BZS |
DualShock Notes:
PS Exclusive: You guessed it, these codes are just for PlayStation players.
Timeless Treasure: No expiration dates on these codes. Use 'em whenever!
Throwback Time: These are legacy codes from when each platform had its own set of rewards.
Special Event Codes: Limited Edition Loot for True Fans
Get ready to add a dash of exclusivity to your gaming experience! These are special event SHiFT Codes that were released during Gearbox Community Days and other special occasions. These codes don't just bring you Golden Keys; they also offer unique skins for each Vault Hunter. Here's the lowdown:
| Reward | SHiFT Code |
| --- | --- |
| Krieg Community Day Skin | WJ5TB-BJSZJ-TFB6W-JTJJJ-3Z3CB |
| Salvador Community Day Skin + 5 Golden Keys | C35TB-WS6ST-TXBRK-TTTJT-JJH6H |
| Zer0 Community Day Skin + 5 Golden Keys | 53KBB-KXXRC-RZ66Z-WFJBB-WSRZ3 |
Event Loot Highlights:
Unique Skins: These codes offer unique skins for Vault Hunters like Krieg and Salvador.
Bonus Keys: Some codes come with Golden Keys as well. Double win!
Limited Time: These were released during special events, so they carry a certain exclusivity.
If you're a collector or just want to flaunt your unique style while battling across Pandora, these codes are your golden opportunity. They offer something a little more special than your average SHiFT Code.
How to Redeem Borderlands 2 SHiFT Codes: Your Step-by-Step Guide
So you've got a bunch of SHiFT Codes, but what's the next step? Redeeming them, of course! Whether you're a seasoned Vault Hunter or new to the Borderlands universe, this guide will walk you through the redemption process, step by step. There are two primary methods to redeem these codes: In-Game and via the SHiFT Website. Let's break it down:
In-Game Method:
Main Menu: Start up Borderlands 2 and head to the main menu.
Extras: Select "Extras" from the menu options.
SHiFT Codes: Choose "SHiFT Codes" from the "Extras" list.
My Offers: Navigate to the "My Offers" screen.
Enter Code: Punch in your 25-digit SHiFT Code and hit "Submit."
SHiFT Website Method:
Visit Website: Head over to the Official SHiFT Website.
Login: Log in or create a SHiFT account.
Redeem Code: Find the option to redeem a code and follow the instructions.
Pro Tips:
Issues: If a code doesn't work, it could be a one-time glitch. Check the knowledge base or submit a ticket for help.
Official Guide: For more details, you can consult the official guide provided by Gearbox Software.
There you have it! You're now fully equipped to redeem those SHiFT Codes and get your hands on some premium Borderlands 2 loot. What are you waiting for? Go unlock that treasure!
SHiFT Codes: More Than Just Golden Keys
To cap it all off, let's talk about the significance of SHiFT Codes in the broader Borderlands 2 experience. These codes aren't just random strings of characters; they're a loyalty reward from Gearbox to the most dedicated Vault Hunters out there.
Why SHiFT Codes Matter:
Exclusive Gear: These codes unlock gear you can't get anywhere else.
Community Building: They're often released during special events, fostering a sense of community.
Versatility: Some codes are universal, while others are platform-specific, offering something for everyone.
Final Words:
Check Back Often: New codes are frequently added, so keep an eye out for updates.
Expired Codes: Some might expire, but we'll do our best to keep this list up to date.
SHiFT Codes are an integral part of the Borderlands experience, offering not just loot but a connection to a larger community. They make each game session a little more rewarding and a lot more fun.