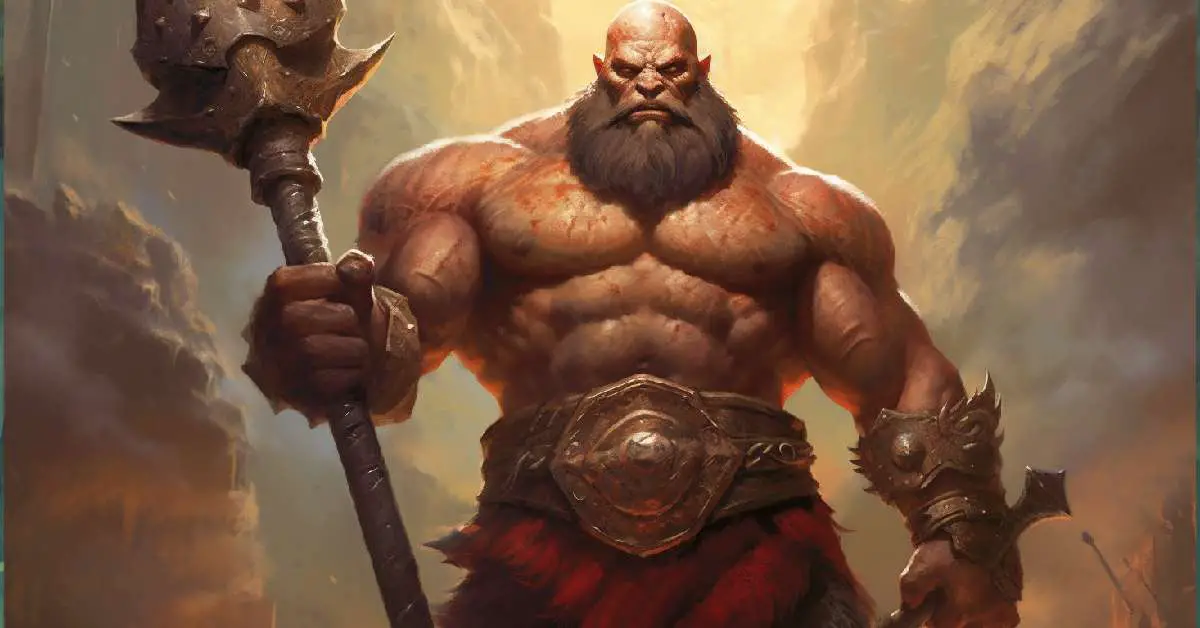 by in
Opening the gateway to an overlooked combat strategy, the thrown weapon fighting style is a weapon technique like no other. Step into the world of D&D 5E, where the clash of swords and the casting of spells reign supreme. But beneath the clanging of steel and the pulsating glow of magic, there lies a less acknowledged art – the deadly dance of thrown weapons.
In the adrenaline-pumping landscape of D&D 5E, few fighting styles exude the same excitement as the thrown weapon technique. More than just an aesthetic choice or a role-playing flavor, this fighting style provides a strategic edge that can turn the tide of any battle. Think of the thrill when your warrior hurls a javelin, spear, or dagger across the battlefield, striking the enemy where they least expect. Whether you're a battle-hardened fighter, a cunning rogue, or an agile ranger, learning the thrown weapon fighting style can enhance your combat prowess in unforeseen ways.
The thrown weapon fighting style is a testament to the dynamic nature of D&D 5E combat, illustrating that sometimes the most compelling strategies lie beyond the traditional sword and shield. But to effectively wield these airborne armaments, it takes more than just strength and aim; it requires understanding the mechanics, tactful decision-making, and an intrinsic connection to your character's unique capabilities.
In the coming sections, we will delve into the riveting world of thrown weapon combat in D&D 5E. From understanding the basic mechanics to unlocking tactical advantages, and from crafting strategies to dispelling common misconceptions, we will embark on a comprehensive journey to empower you as a warrior in this fantastic world.
Mastering a fighting style is no easy task; it demands patience, practice, and a relentless spirit. But rest assured, with the right guidance, you're about to take a significant stride in your journey to become an exceptional combatant in the D&D realm. So, ready your arm, set your aim, and let's dive into the thrilling world of thrown weapon fighting style. The battlefield is waiting, and victory is but a well-aimed throw away!
The Art and Science of Thrown Weapons in D&D 5E
Entering the fascinating domain of thrown weapons, let's first set a solid foundation by understanding what thrown weapons are and how they work in D&D 5E. The term "thrown weapons" may be simple, but its implications in gameplay are vast and intriguing.
In the diverse arsenal of D&D 5E, thrown weapons are a unique category. They straddle the boundary between melee and ranged combat, offering a different approach to traditional fight scenarios. From daggers and handaxes to javelins and tridents, thrown weapons come in various shapes and sizes, each carrying its unique characteristics and use cases.
At its core, the concept of a thrown weapon is straightforward – you hurl a weapon, typically held in one hand, towards an enemy at a distance. It sounds simple, but the implications for combat strategy are profound. Thrown weapons give a character the flexibility to engage enemies from afar without depending solely on bows or magic. It allows warriors to maintain their offensive potential even when an enemy is out of arm's reach.
Now, onto the rules that govern them. The Player's Handbook explains that you can make a ranged attack with a thrown weapon, using your Strength modifier for the attack and damage rolls, unless the weapon is a dart, in which case you use your Dexterity. The range of the thrown weapon attack is dictated by the weapon's properties, with two numbers indicating the weapon's normal range and long range. You can attack a target within the normal range with no disadvantage, but attacking a target within the long range imposes disadvantage on your attack roll.
These basic mechanics set the stage for the thrown weapon fighting style, a special feature that enhances your character's prowess with such weapons. Understanding the principles of thrown weapons is the first step on this exhilarating journey, but there's much more to explore. In the following sections, we will dissect the thrown weapon fighting style, discover its benefits, and unlock the strategies that can make your character a force to be reckoned with.
Decoding the Dance of Thrown Weapon Fighting Style in D&D 5E
Having understood the basic mechanics of thrown weapons, it's now time to venture into the heart of our discussion: the thrown weapon fighting style. This fighting style is an option available to certain classes in D&D 5E, adding an extra layer of strategy and flexibility to their combat repertoire.
The Thrown Weapon Fighting Style was introduced to D&D 5E in Tasha's Cauldron of Everything, a sourcebook that expanded on the rules and features of the game. This style represents a unique blend of accuracy and versatility, making it a formidable choice for those who dare to wield it.
By choosing the Thrown Weapon Fighting style, you gain a +2 bonus to damage rolls when you hit with a ranged attack using a thrown weapon. It's easy to overlook the importance of this seemingly small increase, but in the grand chessboard of D&D combat, every point of damage can be decisive.
Additionally, if you draw a weapon that has the thrown property as part of the attack you make with that weapon, it essentially negates the usual "item interaction" rule that would typically restrict you from drawing and throwing multiple weapons in a single turn. This is a vital feature, allowing you to maintain a relentless onslaught of thrown weapons turn after turn.
But what truly sets the Thrown Weapon Fighting Style apart is its hybrid nature. It grants the ability to be flexible and responsive in battle, as the warrior is not limited to just melee or ranged attacks but can switch between the two as the situation demands. This versatility can often catch opponents off guard, offering opportunities to seize the initiative and control the flow of battle.
However, as with any fighting style, its effective utilization requires strategic thinking and a deep understanding of your character's strengths. In the upcoming sections, we'll delve into these strategies and also explore how to build a character optimally for this exciting fighting style.
Harnessing the Power of the Thrown Weapon Fighting Style
Thrown weapon fighting style isn't just about hurling a piece of metal at your enemies; it's about transforming that piece of metal into a strategic advantage. When used effectively, this fighting style can open up a whole new dimension of combat dynamics. Let's delve into the various advantages that make thrown weapons a compelling choice in D&D 5E.
Firstly, versatility is the key strength of thrown weapons. Being effective in both melee and ranged combat gives you an edge over enemies who specialize in just one. Whether your opponent is a spellcaster maintaining distance or a melee brute closing in, you can respond accordingly without having to change weapons, allowing you to maintain offensive momentum.
Secondly, the Thrown Weapon Fighting Style comes with a +2 bonus to damage rolls. This advantage might seem minor, but every point of damage can be vital in tipping the scales of a closely contested battle. Over the course of a combat encounter, this additional damage can stack up, proving instrumental in wearing down resilient foes.
Thirdly, thrown weapons can catch opponents off guard. Most enemies, and even players, often underestimate or overlook the potential of thrown weapons, focusing more on melee or magic-based attacks. This underestimation can be your secret weapon, giving you an element of surprise and keeping your enemies guessing your next move.
Additionally, when using this fighting style, the rule that lets you draw a weapon as part of the attack is a game-changer. It means you can maintain a steady stream of attacks without pausing, keeping your enemies under constant pressure.
Lastly, thrown weapons open up interesting possibilities for character builds. There are numerous combinations of races, classes, and backgrounds that synergize well with thrown weapon fighting style, enabling unique character designs.
In the world of D&D, mastering a fighting style is a journey, not a destination. So as we traverse this journey of understanding the Thrown Weapon Fighting Style, the next step is to turn theory into practice. Join me in the next section where we'll discuss strategic tips and tricks, and learn how to craft a perfect character build optimized for thrown weapons.
Strategic Tips for the Thrown Weapon Fighting Style
Equipped with the knowledge of what the Thrown Weapon Fighting Style is and its advantages, it's time to sharpen our skills on the battlefield. This section is dedicated to strategies and tips that will help you maximize the potential of this fighting style.
Maintain your Distance, But Stay within Range
While it can be tempting to get up close and personal with your enemies, remember that one of the biggest strengths of the Thrown Weapon Fighting Style is its versatility. Keep a distance when possible, but stay within your weapon's effective range. This tactic allows you to damage enemies from a safe distance while keeping the option to switch to melee when necessary.
Utilize the Element of Surprise
Since thrown weapons are often overlooked, use this to your advantage. Catch enemies off guard by suddenly switching from melee to ranged combat, or vice versa. This tactic keeps your enemies on their toes and makes you unpredictable.
Prioritize Your Targets
While it may seem effective to spread damage across multiple enemies, it's often more efficient to focus your attacks on one enemy at a time. Use your thrown weapons to take down weaker foes first or concentrate your damage on a single, strong opponent. This strategy reduces the number of attacks your party faces each round, increasing your chances of survival.
Invest in Plenty of Weapons
Since you'll be throwing your weapons, make sure to carry plenty of them. Running out of weapons in the middle of combat can leave you vulnerable. Investing in a bandolier or similar item can also be beneficial, allowing you to draw weapons more efficiently.
Choose the Right Weapon for the Situation
Not all thrown weapons are created equal. Each has its unique range, damage type, and properties. Understanding your weapons and using them based on the situation can make a big difference. For instance, use a javelin when dealing with heavily armored foes due to its piercing damage, or use a handaxe against enemies vulnerable to slashing damage.
With these strategies in mind, you're on your way to becoming an adept thrown weapon warrior. But to truly master this style, it helps to start with a character optimized for this form of combat. In the next section, we'll explore how to create a character build that synergizes well with the Thrown Weapon Fighting Style.
Building a Thrown Weapon Fighter in D&D 5E
The choice of race, class, and background is crucial in D&D, shaping your character's abilities, role, and growth. For those who aspire to master the Thrown Weapon Fighting Style, certain choices synergize remarkably well. Let's delve into the intricacies of character creation and carve out an ideal build for a thrown weapon warrior.
Selecting the Right Class
The Fighter class is an excellent choice for a thrown weapon build. Fighters have access to the Fighting Style feature at level 1, allowing you to choose the Thrown Weapon Fighting Style right from the get-go. Moreover, the Extra Attack feature that fighters gain at higher levels is particularly beneficial for maximizing your damage output with thrown weapons.
Choosing a Suitable Race
The choice of race should ideally complement your class and fighting style. For a thrown weapon build, races that provide a bonus to Strength are beneficial, as Strength influences the attack and damage rolls for most thrown weapons. The Goliath and Half-Orc races, both of which offer a +2 Strength bonus, are notable options. The racial features of these races, such as Powerful Build from Goliath or Savage Attacks from Half-Orc, can also prove advantageous on the battlefield.
Picking an Apt Background
While the background does not significantly impact combat capabilities, it adds depth to your character and can provide useful non-combat skills. The Soldier background can fit well with a thrown weapon fighter, reinforcing their combat-oriented lifestyle. Additionally, the Athletics and Intimidation skill proficiencies gained from this background can be quite useful.
Allocating Ability Scores
Prioritize Strength to boost your attack and damage rolls with thrown weapons. Following Strength, Constitution is important for increasing your hit points and survivability in combat. Dexterity shouldn't be ignored either, as it contributes to your Armor Class and certain saving throws.
Equipment Choices
Start with a variety of thrown weapons to handle different combat situations. Javelins, handaxes, and daggers are good starting points. As for armor, depending on your Dexterity score, you may choose between medium armor or heavy armor.
Now, let's put this all together in a table for an example build:
| Character Aspect | Selection |
| --- | --- |
| Class | Fighter |
| Race | Goliath |
| Background | Soldier |
| Ability Scores | Strength > Constitution > Dexterity |
| Equipment | Javelins, Handaxes, Daggers, Medium or Heavy Armor |
Remember, D&D is a game of imagination, and there's no "one-size-fits-all" approach. Feel free to experiment and tailor your character as per your vision. Our next stop will address some common misconceptions about the Thrown Weapon Fighting Style.
Addressing Common Misconceptions about Thrown Weapon Fighting Style
As we journey deeper into the realm of the Thrown Weapon Fighting Style, it's important to address and dispel some common misconceptions. These misunderstandings, if not corrected, can lead to suboptimal decisions and strategies, so let's set the record straight.
Myth 1: Thrown Weapons are Inferior to Bows or Crossbows
This myth stems from comparing the damage and range of thrown weapons to that of bows or crossbows. While it's true that bows and crossbows generally have longer ranges and potentially higher damage, thrown weapons offer something they don't: versatility.
The real power of thrown weapons comes from their flexibility. A warrior skilled in this style can switch seamlessly between melee and ranged attacks, depending on the situation. This adaptability makes them unpredictable and capable of responding to changing battlefield conditions.
Myth 2: The +2 Damage Bonus is Negligible
Some players might consider the +2 damage bonus from the Thrown Weapon Fighting Style as insignificant. However, this is a misconception. In D&D, every point of damage counts. Over multiple rounds of combat, the additional damage accumulates, significantly contributing to your total damage output. The key is to view the bonus not in isolation, but as a part of your overall combat strategy.
Myth 3: You'll Run Out of Weapons to Throw
Yes, thrown weapons are consumable, and yes, there's a chance you might run out. But this is where smart gameplay comes in. By maintaining a healthy stock of thrown weapons and investing in ways to efficiently draw them, you can keep your attacks flowing. Also, remember that thrown weapons can often be retrieved after combat, reducing the need for constant replenishment.
Myth 4: Thrown Weapon Fighting Style is Only for Fighters
While Fighters may seem like the go-to choice due to their access to the Fighting Style feature, they're not the only viable class for a thrown weapon build. Rangers, for instance, can also choose a Fighting Style at level 2. Similarly, certain subclasses from other classes can access Fighting Styles, providing additional pathways for thrown weapon builds.
Roleplaying a Thrown Weapon Specialist
Roleplaying is an integral part of D&D; it adds depth to your character and breathes life into the game. If you're a thrown weapon warrior, how you embody that character can greatly enhance the gameplay experience for both you and your party. Let's delve into some tips for roleplaying a thrown weapon specialist.
Project Confidence and Adaptability
A thrown weapon warrior is a symbol of versatility on the battlefield. Reflect this in your roleplay. Show confidence in your abilities, and project the adaptability that's at the core of your fighting style. Whether you're engaging in a friendly spar or preparing for a deadly battle, demonstrate that you're ready for anything.
Live by the Warrior's Code
Every warrior has a code they live by, and as a thrown weapon specialist, you should have one too. This code could be a personal ethos, a vow made to a deity, or a legacy passed down from a mentor. Whatever it is, let it guide your decisions, shape your interactions, and influence your actions on the battlefield.
Value Your Weapons
Your weapons aren't just tools; they're an extension of your will on the battlefield. Show a deep connection with your weapons, respect them, care for them. Maybe you have a ritual of polishing your weapons every night, or perhaps you say a small prayer before throwing a weapon. These little details can add depth to your character and highlight their bond with their weapons.
Share Your Skills and Knowledge
You're a specialist in a unique fighting style. Share your knowledge and skills with your party members. Maybe you teach them some throwing techniques, or you help them strategize based on your versatile approach to combat. This not only showcases your expertise but also helps in building camaraderie within the party.
Remember, roleplaying isn't about strict rules; it's about bringing your character to life in a way that resonates with you and adds to the collective storytelling experience. So, embrace your thrown weapon warrior, and let them leave a mark on the world of D&D.
Closing Thoughts: Embracing the Thrown Weapon Fighting Style
As we reach the end of our exploration of the Thrown Weapon Fighting Style, it's evident that this approach to combat in D&D 5E is both dynamic and nuanced. Far from being an inferior choice or a niche strategy, thrown weapons offer a unique mix of versatility, adaptability, and surprise that can enhance any warrior's repertoire.
The thrown weapon warrior isn't merely a fighter. They're a strategist who uses every asset at their disposal to adapt and overcome. They epitomize the principle that every situation offers opportunities for those willing to seize them. They demonstrate that in a game as varied and complex as D&D, versatility can be the most powerful weapon of all.
We've delved into the mechanics of the Thrown Weapon Fighting Style, discussed strategic tips, dispelled common myths, and explored character builds and roleplaying ideas. But the real magic happens when you take these insights and put them into practice.
Remember, D&D is a game of creativity and imagination. There's no "correct" way to play, and there's always room for individual flair and innovation. Whether you're a seasoned player or new to the game, I hope this guide has inspired you to see the Thrown Weapon Fighting Style in a new light and given you the tools to wield it effectively on the battlefield.