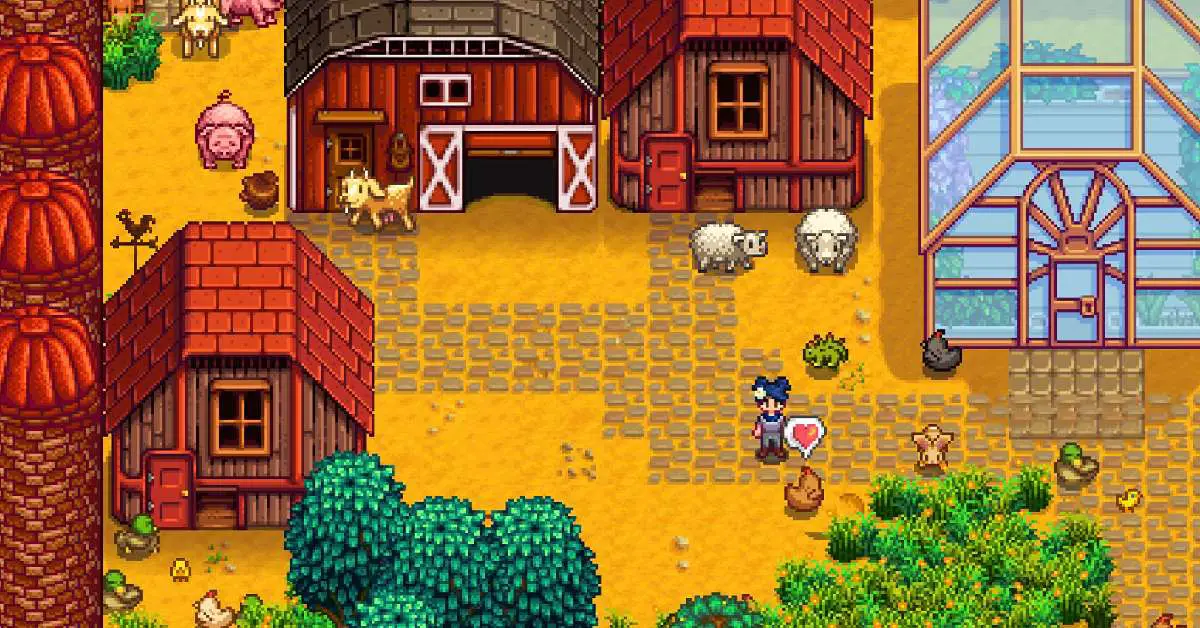 by in
Stardew Valley has captured the hearts of millions of players since its launch in 2016. The charming farming sim offers endless hours of enjoyment as you cultivate your farm, interact with the villagers, and explore the world. As with any popular game, an active modding community has developed to enhance the gameplay experience. In this blog post, we'll dive into the best Stardew Valley Mods that will take your farming adventure to new heights.
Tractor Mod: Farming Efficiency at Its Finest
One of the most useful mods you can install in Stardew Valley is the Tractor Mod. Say goodbye to the tedious task of manually tilling, planting, and harvesting your crops. With this mod, you'll have a powerful tractor that can perform these tasks automatically within a certain range. It's the perfect tool to maximize your efficiency and turn your farm into a thriving enterprise.
Loved Labels: Never Forget Your Animal Friends
As your farm grows, so does your animal family. Keeping track of all your animals can be challenging, but Loved Labels is here to save the day. This mod provides a simple overlay that shows you which animals have received attention and which haven't. With this nifty tool, you'll never forget to pet or milk your animals again.
Dawn's Fluffy Dogs and Other Alternative Dogs: Furry Friends with Flair
Who doesn't love having a furry companion on their farm? Dawn's Fluffy Dogs and Other Alternative Dogs mod introduces a variety of delightful new dog breeds to Stardew Valley. Choose from an assortment of fluffy, cute, and unique dog designs to find the perfect pet for your farm. With this mod, your canine friend will truly be one-of-a-kind.
Stardew Valley Expanded: A Whole New World Awaits
If you've ever felt like you've seen everything there is to see in Stardew Valley, prepare to be amazed by Stardew Valley Expanded. This massive mod adds a plethora of new content, including:
New locations
New crops
New animals
New farm buildings
New events
New NPCs
The amount of additional content provided by this mod is truly staggering, making it an essential addition for any seasoned player looking to breathe new life into their Stardew Valley experience.
Instant Tool Upgrades: Say Goodbye to Waiting
We all know how frustrating it can be to wait for your tools to be upgraded. The Instant Tool Upgrades mod eliminates this annoyance, allowing you to receive your upgraded tools immediately. No more waiting around for days as Clint works on your tools! Enjoy the satisfaction of instantly upgrading your tools, and get back to what you love doing most – farming and exploring.
NPC Map Locations: Keep Track of Your Favorite Villagers
Ever spent precious in-game time trying to track down a specific villager? The NPC Map Locations mod is here to save the day. This handy mod displays the location of each NPC on your map, making it a breeze to find anyone in town. No more running around aimlessly – you'll be able to locate your friends with ease and make the most of your valuable time.
Elle's Cat Replacements: Purr-fectly Adorable Feline Friends
For the cat lovers out there, Elle's Cat Replacements is the perfect mod to customize your feline companion. Choose from a wide range of adorable cat designs, each with its own distinct look and personality. With this mod, your cat will become an even more cherished part of your farm family.
Gift Taste Helper: Become the Ultimate Gift Giver
Struggling to remember each villager's favorite gifts can be a challenge. The Gift Taste Helper mod is here to lend a helping hand. With this mod, you can easily view a character's preferred gifts by hovering over their birthday on the calendar or their portrait in the Social tab. No more guessing games or accidental disappointments – become the ultimate gift giver and strengthen your relationships with the townspeople in no time.
Seaside Valley: A Refreshing Coastal Adventure
Looking for a change of scenery? Seaside Valley is a beautiful mod that transforms your Stardew Valley farm into a coastal paradise. With new buildings, crops, and even new fish to catch, this mod offers a refreshing change of pace for those seeking a different farming experience. Explore the picturesque coastline, build a thriving seaside farm, and immerse yourself in the soothing ambiance of the ocean.
Mobile Phone Mod: Modern Convenience in the Countryside
Stay connected with the Mobile Phone Mod. This mod adds a smartphone to your inventory, allowing you to access useful apps such as the Calendar, Weather, and Relationships. You can even use the phone to call NPCs, making it easier than ever to keep in touch with your fellow villagers. Enjoy the convenience of modern technology while maintaining the charm of rural living.
In Conclusion
These are just a few of the best Stardew Valley Mods that can enhance and transform your gameplay experience. From improved farming efficiency to new locations and adorable pet replacements, these mods offer a range of options to customize your farm and make your Stardew Valley adventure even more enjoyable. Don't hesitate to dive in and try these mods for yourself. Whether you're a seasoned player or just starting out, there's something for everyone in this collection of top-notch mods.
Before installing any mods, make sure to backup your save files and follow the installation instructions carefully. Some mods may require compatibility patches or additional mods (such as SMAPI or Content Patcher) to work correctly. Always check for updates and read user reviews to ensure a smooth and enjoyable modding experience.
With these mods at your fingertips, your farming adventure has never been more exciting or fulfilling. Customize your game to suit your personal preferences, and fall in love with Stardew Valley all over again.
Happy farming!